This material offers the highest thermal protection available and is a quality textile that looks good, feels good and has the durability and abrasion resistance necessary to last.
NOMEX Titan® was developed through a partnership between Dupont and Hainsworth Protective Fabrics in England.
This outer shell material carries the unique property of "active air entrapment". It consists of NOMEX® on top and a Kevlar® grid underneath. When the fabric is exposed to extreme heat such as a flash fire situation, the two fibers react differently causing the Kevlar® layer to consolidate and ripple while the Nomex ® grid remains undamaged.
The rippled Kevlar® layer creates pockets of air known as "active air entrapment" between the outer layer and the Kevlar® grid and the moisture barrier. Air is one of the world's lightest and most effective heat insulators and this unique outer shell fabric harnesses this natural thermal barrier.
1126/1160 BUNKER GEAR SUIT
1126/1160 - COAT FEATURES
Full Cargo Hand Warmer Pockets
ID-Card Hanger / Pass Alarm
Double Layer Outer Fabric on Cuffs
Reinforced Elbows with Double Layer Outer Shell
Stash/Medical Glove Pocket
Heavy Duty Velcro Closing
Crosstech Water Well System in Wrist
Tube knitted wristlets of Dupont Nomex
Torso Thermal Liner Extended To Top of Neck Collar
Detachable Drop Down Name Panel
1126/1160 - PANT FEATURES
Full Bellows Reinforced Cargo Pockets
Zipper Velcro Front Closure
Take Up Straps of Dupon Nomex
Goretex Anti-Wicking Barrier to Minimize Water Absorption
Double Layer of Outer Shell in Cuff
Reinforced Knees with Dupont Kevlar
TITAN is a patented Dual layer, Advanced Woven Fabric System
The two layers are woven together using a special weave pattern, which allows the innovative fabric system to work effectively
The fabric system reacts to extreme heat as experienced in flash fire conditions. The Hainsworth TITAN consolidates causing the layer to ripple and remain undamaged.
The rippled layer of Dupont Kevlar creates air pockets, which offers the garment wearer a greater heat insulation when it is most needed
VIKING MACS also allows you to personalize and optimize your suit more than ever before!
Empowered by a military-inspired system of webbed loops, the firefighter is enabled to attach performance enhancing features and accessories right where he wants them – where they are easily accessible and do not interfere with other equipment.
The VIKING MACS system is similar to the modular, adjustable system often incorporated into combat gear and backpacks. The system allows the firefighter to quickly and flexibly attach and reposition pouches, pockets or other accessories to match individual preferences, tactical requirements and the equipment carried.
Simply pull the straps through the loops and attach them with a snap. Choose from a wide variety of modular accessories to get a suits that fits your exact needs.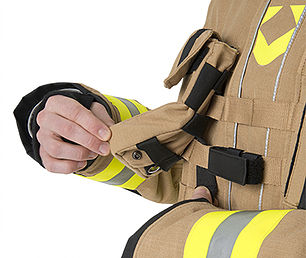 OTHER OUTER SHELL OPTIONS
PBI® Matrix combines the high-performing, heat and flame protection of PBI Gold with a durable matrix of high-strength 400 or 600 denier filaments to reduce wear and tear. This combination results in:
PBI flame and break-open protection
Increased abrasion resistance
Improved trap tears
TenCate Millenia™ XT - Highest Ratings on many aspects - Peak Performance option
tenCate Millenia™ XT- Rip Stop weave, Natural color only 7.5 oz/sq. yd.(40% Zylon®/60% Para-aramid Technora®) with finish of TenCate Super Shelltite™.
Highest thermal stability. Retains strength and flexibility even after thermal exposure.
Greatest strength retention. 250% stronger after thermal exposure than any competitive outer shell.
Best initial strength. 40% greater strength than any other outer shell.
Greatest flexibility. Supple hand enables more freedom of movement in tight spots than any other protective fabric.
Most durable. Unbeatable in durability and overall wear life.
Top performance in Taber abrasion resistance.
TenCate Gemini™ - Strong Ratings on many aspects
TenCate Gemini™ or PBI Gold Plus® with PBI Matrix® Technology – Natural (Gold) and Black
Constructed of 7.5 oz/sq. yd. spun yarns of
Reinforced with PBI® and Dupont™ Kevlar® with a network of filaments made with Dupont™ Kevlar® treated with an advanced water-repellant finish of TenCate Super Shelltite™.
TenCate Advance Ultra™ - High Ratings on many aspects - Peak Performance option
TenCate Advance Ultra™ - Natural, Black Gold and Yellow.
Its unique patented construction, engineered from a blend including brand fibers of DuPont™ Kevlar® , provides superior strength, durability and thermal protection that stands up to the heat. Better strength (tensile and tear) after thermal exposure, better abrasion resistance and excellent thermal protection."
TenCate Advance™ Good Ratings
TenCate Advance™ - Black, Gold, Yellow, Khaki
Constructed of a 40% Dupont™ Nomex® and 60% Dupont™ Kevlar® blend with a ripstop weave, weighing approximately 7.0 oz/sq. yd. The outer shell is treated with a water-repellent finish of TenCate Shelltite™ and can also be treated with an advanced water-repellent finish of TenCate Super Shelltite™.
TenCate Brigade®- Good Basic Ratings
Dupont™ Nomex® - Black, Yellow, Blue, Red, Tan, and White (TenCate Defender™)
The plain weave fabric of Dupont™ Nomex®, weighing approximately 7.5 oz/sq. yd. is treated with a water-repellent finish and can also be treated with an advanced water-repellent finish of Tencate Super Shelltite™.
"OMNI 45"™ Basofil® fabric-fabric – Yellow, Black, AuBrown (OMNI 45™ or Barrage™)
Constructed of 40% Basofil®/60% para-aramid fiber with a ripstop weave weighing approximately 7.5 oz/sq. yd. The outer shell shall be treated with a water-repellent finish.
CROSSTECH™
Constructed of 5.0 oz/sq. yd. woven of Dupont™ Nomex®pajama check substrate laminated with a Crosstech® membrane
GORE RT 7100®
by W.L. Gore incorporates a non-woven substrate of Dupont™ Nomex® weighing approximately 4.0 oz./sq.yd.

The DUO suit offers all the standard coat and pant features available on the 1126/1160 suit. In addition, the DUO suit is available in several dual colour options.
Colours: Black, Red, Yellow, Gold, Orange & Lime Green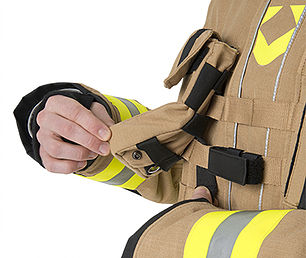 Dupont Kevlar Reinforcement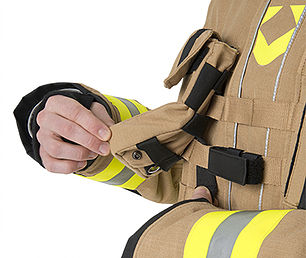 Change, Add or Move Pockets easily with no stitching
Elastic shell allows increase maneuverability and eliminates coat lifting when reaching
Outer shell can be removed to prevent transmission of elements, exposures and bodily fluids
Provide additional wear protection in wrist and ancles
Provide insulated and lined pockets on exterior of jacket
One pocket that fits any radio, every shape and size
Eliminate unnecessary cuff wear
Provide optimum protection and comfort in the knee when crawling or kneeling.
Adopted from the ski industry, the inner liner can be tightened and secured
How it works

The outer shell in the jacket and trousers are attached to the liner with a zipper system. Before you get back into the fire truck, simply unzip the outer shell from the liners and place it in the dissolvable washing bag.
When you get back to the station, throw the bag in the washing machine. This reduces your exposure to dangerous chemicals and prevents them from contaminating the truck, the station and the people handling the suits for washing.
Cancer risk among firefighters is a major concern all over the world. Together with firefighters in the field, VIKING has developed and tested a tactical solution for the next generation of protection. When you are out on a call, your outer shell is often exposed to dangerous particles. With VIKING's new Guardian suit, you just remove the outer shell and you have a wearable suit for the road home, limiting the contamination of the vehicle and your body.
Reinforment in Dupont Kevlar at knee, hem and calf
Pre-bent knees with detachable internal kneepad
Anti-wicking barrier to
minimize water absorption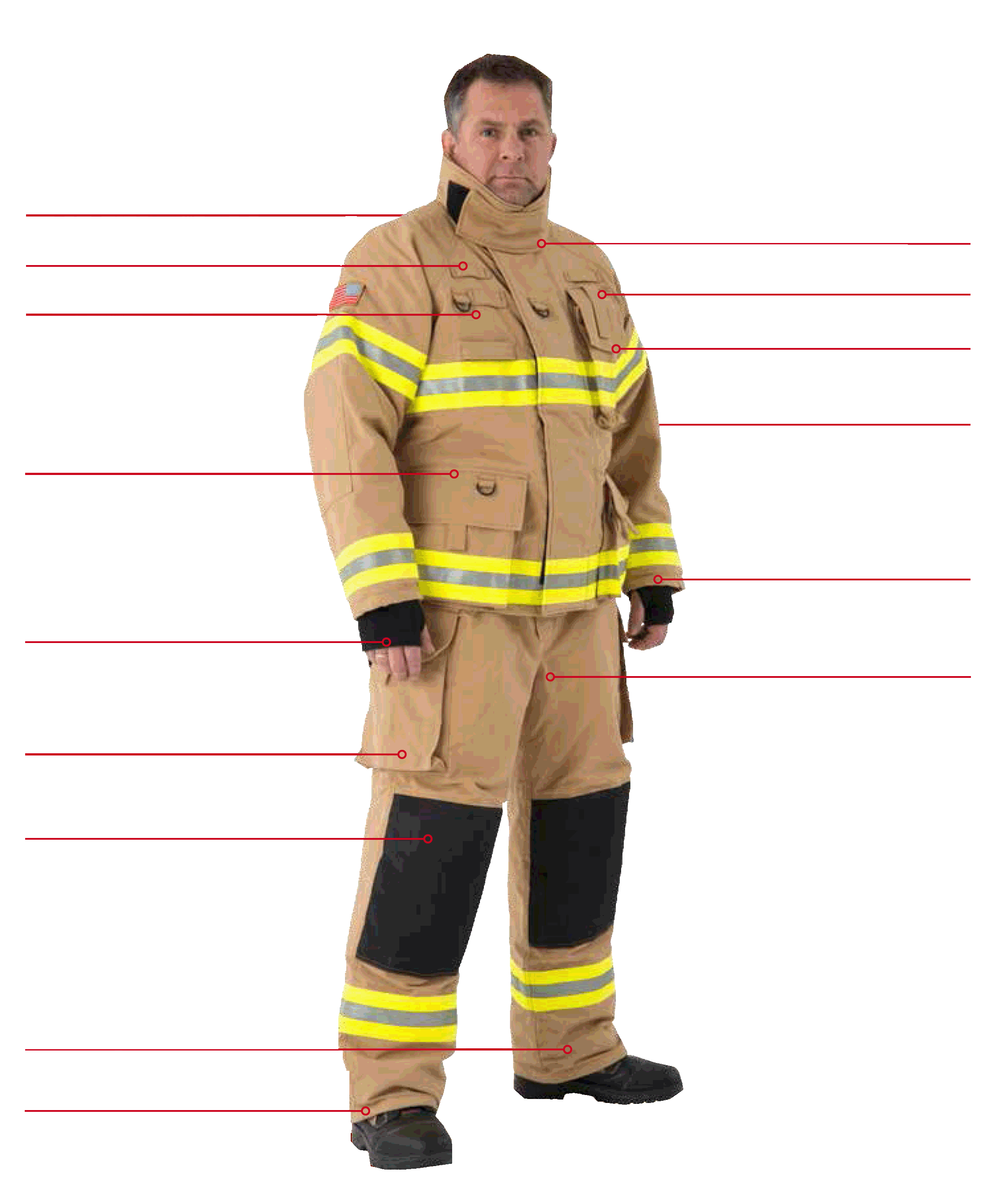 Torse thermal liner extended to top of neck collar
Reinforced elbows with
double layer of outer fabric
Full cargo/handwarmer
pockets
Water well system in wrist and wristlets with tube knitting
Full bellows reinforced
cargo pockets
Pre-bent knees with reinforcements
Double layer of outer fabric
on cuff
Zipper Velcro front
closure on pants
Slick, lower friction properties of a Glide Thermal Liner add enhanced freedom of movement and more comfort to your turnout gear. This amazing low friction capability is a result of our patented weave—the only face cloth with 60% DuPont™ Kevlar® Filament Technology. In addition to low friction, Glide provides the ultimate in moisture management as it wicks perspiration from the body and dries quickly - keeping you cooler, drier and more comfortable
Iso'Air®: heat protection, high breathability.
Iso'Air® acts as an incompressible spacer between the lining and the outer fabric to protect the firefighter from both fire and heat. It is superior to other systems due to the pockets of trapped air held in the non-woven
TenCate Defender™ M strikes an optimum balance between protection, garment life, comfort and cost. Since its introduction in 2007 the material has saved a great many lives. TenCate Defender™ M is regarded as the new standard for the heat and flame-retardant uniforms.
Kevlar reinforcement at sleeve hem and elbows
Elastic Style Outer Shell
Reinforment in Dupont Kevlar at knee, hem and calf
Pre-bent kneed with detachable internal kneepad