FOCUS Lampheads were the first lampheads to introduce the concept of re-directing light with fifty parabolic curved and aimed surfaces. The innovative design directs light where it is needed.
MAGNAFIRE Lampheads provide High-intensity light output, compact design, and durability. Its mirror-polished reflector has increased vertical surface area and rounded parabolic corners for maximum efficiency.
OPTIMUM Lampheads utilize a superefficient design to offer a maximum transfer of light from bulb to scene. Includes HID bulb option not available on classic FOCUS lights.
Total Height with Lamphead
SPA Series - 72" High, OPA Series - 69" High, FCA Series - 69"
Total Height with Lamphead
SPA Series - 58" High, OPA Series - 55" High, FCA Series - 55"
Total Height with Lamphead
SPA Series - 45" High, OPA Series - 42" High, FCA Series - 42"
Model 603 for Spectra / Optimum
A - Nema 5-15 Straight Household Plug
B - Nema L5-20 3 Prong Wist Lock Plug
C - Nema L5-15 3 Prong Twist Lock Plug
Six C4® LED and wide reflectors produce a uniform flood pattern

Three user-selectable outputs:

High for a super-bright flood beam; 3,600 lumens, 31,000 candela, runs 5 hours
Medium for an intense beam and longer run time; 2,400 lumens, 20,000 candela, runs 9 hours
Low for when a less intense beam is ideal and for longer run times; 1,100 lumens, 11,000 candela, runs 18 hours

Less than 30 seconds for full deployment

Pole extends to 72"

25 lbs (11.3 kg) provides weight stabilization, but is light enough to carry

Selectable diffuser settings for two beam widths

Batteries will continue to charge while operating directly from an external 12V DC power source when using the remote cord so you can be confident that you will always have a light when you need it

High-impact thermoplastic housing; weatherproof construction

Available in Safety Yellow with AC and DC charge cords and shoulder strap

Two Modes of Operation
High – 3000 Lumens – 8 Hour Run Time
Low – 1500 Lumens – 15 Hour Run Time
Mast Height Extended: 32.38"

Weight: 22.65lbs

Closed Dimensions: 7.87"W x 15.75" L x 9.06" H


Available with AC charge cords

SPECTRA LED Lampheads output an impressive 20,000 lumens of super bright LED light. The advanced lens and arrangement of LEDs generate a unique combination flood and spot light pattern.
SPECTRA MAX LED Lampheads deliver 28,000 lumens of ultrabright LED light in a uniform light pattern providing maximum scene & work area visibility.
Spectra MAX-S Lampheads output 28,000 lumens of ultrabright LED light. The lamphead combines a flood light with an intense long distance spotlight to let you see objects farther away.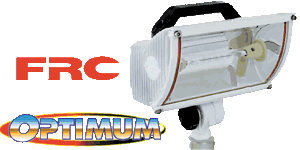 SPECTRA MS LED are slim, compact, and provide an efficient 14,000 lumens of bright LED light.
SPECTRA 900 LED Lampheads flood and loading light was designed specifically for Ambulance and Emergency Response Vehicles. This surface mount light is easy to install with NO PANEL CUT OUT required.
EVOLUTION Lampheads generate up to 20,000 lumens of ultra bright white light. The unique LED arrays and lens produce more usable light in a compact lamphead. EVOLUTION II lampheads are available with all FRC telescopic poles, fixed, and brow mounts.