Rosenbauer FX aluminum body styles feature a wide range of compartment configurations and strong, durable bodies so you can build the truck you want. Rosenbauer FX aluminum bodies live up our highest, most important standards.
Lifetime Warranty
Rosenbauer FX body styles offer a galvanized subframe with a lifetrime warranty.
Heavy-Duty Steel Subframe
Heavy-duty steel tube, channel, angles and gussets are welded together and hot-dip galvanized to form an extremely strong subframe, which is the back-bone of this modular body. It is built using formed sheets and heavy duty extrusions.
The optional extreme duty subframe features extra heavy wall steel tubing and double plate steel gussets at the rear. The front is mounted using a specifally designed metacone rubber mounting system to absorb road shock and twisting forces.
Flush-mounted hinged doors with stainless steel hardware allow full-width storage. Compartments can also be customized to fit your needs with shelves, roll-out trays and equipment mounts.
Roll-up doors give you easy access to adjustable shelves, roll-out trays and tool boards without extending into the roadway for added safety.
Double Wall "I"Beam (4"x2.5")
Water Tank Support and Subframe (4" x 3")
"I" CHannels Dont end where body starts
The Rosenbauer EXT body styles offers 3/16 Extruded Aluminum Body is the strongest body available on the market today. The EXT design offers fire departments maximum compartment storage with roll up doors that roll outside of the compartments and as well as integrated tracking on the side of the compartment. In addition, the EXT body is provided with a lifetime transferable warranty.
Durable hinges that don't sacrifice space.
Compartment doors feature stainless steel hinges, which are concealed and protected from the elements, and striker pins that extend out of the door opening. Offset hinges also allow doors to open the full width of the compartment.
Storage from top to bottom.
Recessed roll-up doors offer topside equipment mounting, so cord reels and other equipment can be attached to the ceiling for added storage.
Fully protected wiring and lighting.
All wiring is encased within the body "C" channels so weather, equipment and other gear won't snag or damage it. Lighting is also recessed for protection. Both lights and wiring are easily accessed via bolt-in-place panels
Keep equipment dry and protected.
Roll-up doors open full width and above compartments, offering increased storage space and service of doors in the closed position. Rolled-up doors are isolated in a separate compartment, eliminating moisture inside the storage space.
Nothing in the way of your storage space.
Adjustable tracks are an integral part of the "C" channel side walls. As a result, compartment shelves extend the full width of the compartment opening for increased storage space.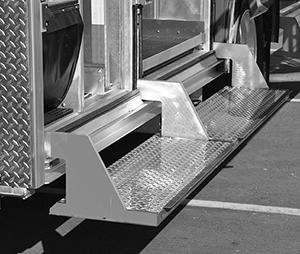 "I" channels that don't end where the body starts.
Extruded model "I" channels run all the way through the truck body for extra support, while conventional body channels are simply welded to the frame. This added strength allows the body to rest on the channel, distributing weight throughout the entire beam and reducing stress at the welds.
Easy access step to storage area
Lower compartment door panels flip down to provide easy access to upper compartment storage area.
High Quality wheel well options.
Easily replaced wheel well housings are available in four-way aluminum, painted aluminum or stainless steel. Polished stainless federettes and high density inner liners are standard.
The Rosenbauer CT body styles feature a wide range of compartment configurations and strong, durable bodies, Available in aluminum and stainless steel.
The CT body is built using state-of-the-art manufacturing techniques and equipment, including digital high-definition plasma cutting systems, bending equipment and pulse MIG welding equipment.
The individual modules are assembled and welded using a "notch and tab" method in which interlocking provisions are designed into the pieces. This technique ensures an accurate fit and allows for perfect replacement parts to be fabricated if the need should arise.
The subframe and body are assembled using a power-operated, pretensioned bolting system called a "Huck Bolt." This method draws the bolt to a specific tension, then clamps the nut tight, leaving a constant and vibration-proof fastening system.
The CT subframe is formed heavy-duty 7 gauge steel, powder-coated to resist corrosion and attached with a minimum of six mounting points, four of which are spring-loaded to help absorb torsional twist.
Top and intermediate Door Frame Extrusion
Front and Back Door Post Extrusion
Angled Aluminum body support extrusion
.125" Diamond Plate top cap
.125" Interior Diamond plate